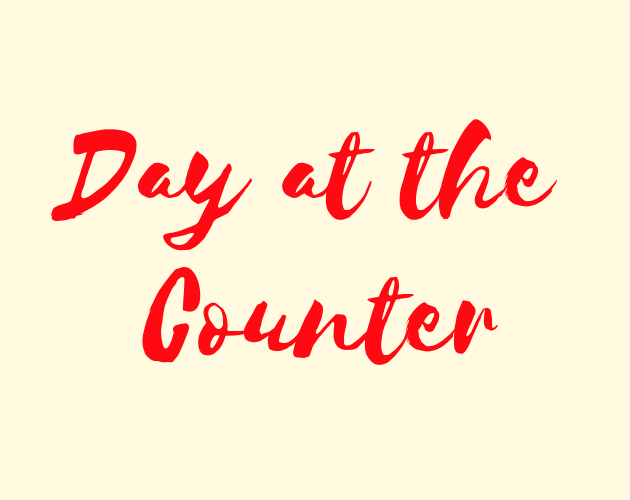 Day at the Counter
STORY
Welcome to Day at the counter. A game not about making food, or eating it, or slashing it but a game about taking orders. For food. Your uncle runs the most popular burger joint in the town called 'Burgers & Fries". The rush at the joint is unbelievable. People order food, and they do it fast. Your uncle has asked for your help for a day. Will you help him out?

OBJECTIVE
Carefully listen to the orders, select the right items on your Point of Sale (PoS) system and do it within 30 seconds. One wrong order and game over.

CONTROL
Click and play. Best played with a mouse or on a touch screen.

P.S. - This is my first game. Would love your feedback. Be kind fellas.

Comments
Log in with itch.io to leave a comment.
I did a second video and it's pretty much more aware gameplay as I couldn't reach the end
Thanks! I really enjoyed your game but I wasn't too good at it!
Hey, first of all thank you for making this. Was smiling all throughout the video. I loved how you said you were going to end at a particular number of orders but kept on going. And yes, there's an end and you were very close to it.
Furthermore, I could see some bugs. You don't necessarily need to enter the order in order of how it was said, it's a bug and I am working on it. Similarly, if you add 2 peri peri fries and then delete 1 and then enter, somehow that ends the game as well , again, that is a known bug that I am working on. Also, will have to check why you were getting that 'You Freen' message. Haven't seen others getting it, it's part of some old code that others haven't encountered.
Nonetheless, you weren't bad at the game and did well. I am so so glad that you see potential in the concept. I made the game in its current state just to see if people enjoy the core gameplay and have enough validation now.
Thank you once more.
The bugs were fine and didn't affect gameplay that much, I'm glad you enjoyed the video and I'll probably make a short one where I complete it to show the end,
Great game, thanks!
A great game of memory and focus that kept me on the edge till I finished it. Loved the concept and experience!! :)
I love the colors. The game needs your own art of foods. You can do it! I believe in you. >:)
Hehe, thank you so much for the comment. Hope you liked the gameplay as well. Would love your feedback on the same.
In terms of graphics, I have heard that real PoS look even uglier. Wasn't sure where I could incorporate my art work.
Go to YouTube type how to add art images in in your game engine you use. :) That will do the trick. >:)
I know how to incorporate images into my game engine (Godot), it's just that I wanted to give it a realistic feeling and most of the real PoS systems don't have images either :).